Wow, I feel like I have been out and about all day long. I started my morning with a trip to the children's hospital a few towns over. My friend's little boy has been admitted for a few days. He's only five months old and has had a rough start so far. His mom is hoping he can come home tomorrow though, so that is something to look forward to. It makes me thankful for my healthy kids. We really haven't had even a bad virus in quite some time. *knock on wood*
Within minutes of me returning from the hospital we were on our way to a Christmas party for military kids. It was really a lot of fun. The organization putting it on had tables and tables full of small toys in all categories. The kids were each given a bag to pick ten. I'm sure to a kid it was just like getting to set foot in Santa's workshop itself. And in fact Santa was there for them to visit with!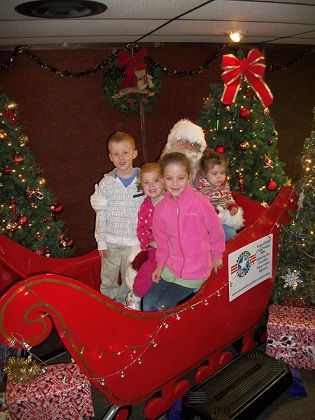 Following the Christmas party we came home for just a short while to get ready for our trip into DC. It was USO/military night at the National Zoo. They are currently doing their "Zoo Lights" where the whole zoo is decorated and lit up in the evenings. We live a stone's throw outside of DC, so I foolishly left for this event (which began at 5pm) at 4:45. After snaking all through the city we finally arrived about an hour and a half later. My GPS looked like this, and I thought about crying. City traffic can just get to be too much for me. There were no traffic circles or one way streets back home! No parallel parking either..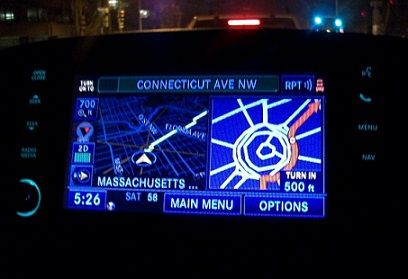 So we finally got to the zoo, but the police were blocking off the entrances, as the parking had long since filled up. I opened my door right in the middle of the street (Matt was driving) and yelled for the kids to get out quickly. I got everyone on the sidewalk, Matt pulled off, and then I remembered my cell phone was still in the car with him. There were thousands of people there so I was not going to ever find him without it, so I took off running down the street after him. I heard a policeman yell for me to wait twice, then just sort of sigh and move onto something else. I did in fact catch him and recover the phone. That was a close one! He found parking maybe a mile away and met us at the zoo a short time later.
The lights were really awesome. The zoo was ridiculously crowded, but the kids had a good time and did a good job of staying with us. Carrie you can see had a hot chocolate incident.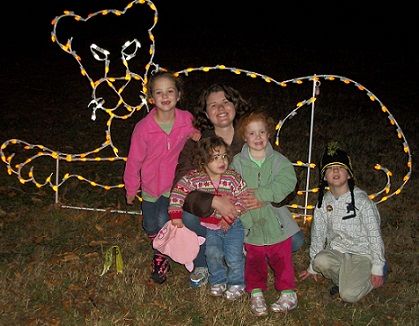 And here they are with their handsome daddy. Everyone liked this big blue tree. It was huge in person.
Carrie is the queen of pandas, so she was very excited about all the panda decor. DC is one of only a few zoos in the country with pandas.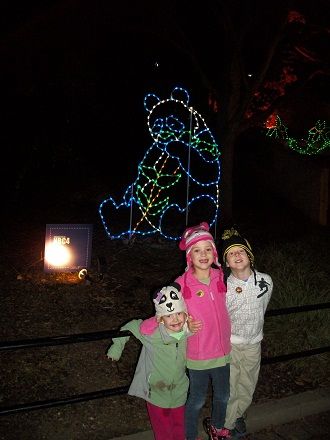 Beth, Matt, and Carrie got to do a little tubing. The USO gave us some free passes. I am so thankful to the USO. It costs a crazy amount to live in this area, and their free functions really give the kids something to look forward to.
Katy was too little to get on the tubes (maybe next year) but she was very pleased with the petting zoo.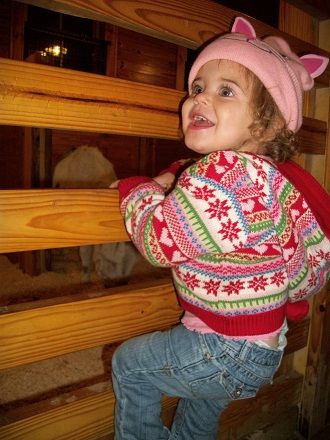 We ended our night with the long trek back to the car. It was a lot of fun walking through the city. Their were two men playing Christmas music on saxophones on one of the corners, and I gave the kids a few dollars to put into their hat. They had never seen that before and really loved the street music. He played "Santa Claus is Coming to Town" for them - can't beat that! All the storefronts were beautifully decorated as well. And the apartments all look so old and massive - but still beautifully maintained. It's just a cool part of DC. On the way home we passed the White House and drove through Chinatown. The kids had their faces glued to the windows, and Matt and I were pretty much feeling the same way. I guess living in the city does have it's perks.