Well almost right?? We have had such warm weather this past week we have been swimming or out in the sprinkler almost every single day!
Yesterday we spent the day at the beach. We had such a nice time! Those fearless kids of mine caught a giant spider crab in their bucket and asked to keep it as a pet, lol. At least I knew what that one was! The next thing they caught was some horrible creature that made me want to stay out of the water for a while. It was like a foot and a half long, and shaped like a snake, but it had tenticles all over it, and antennas like a bug. In the words of Beth "It's waggly, it's squaggly, and it has one hundred feet!" I tried to look it up online but I can't find anything like it...I'm sure it's some mutant no one has ever seen before, lol. I wish I had gotten a picture, but I wanted to let that thing go IMMEDIATLEY.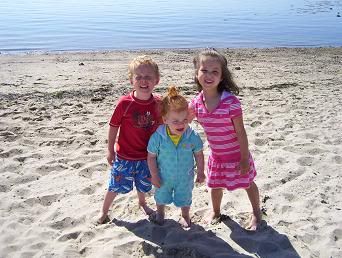 When we got home Carrie was apparently wiped out.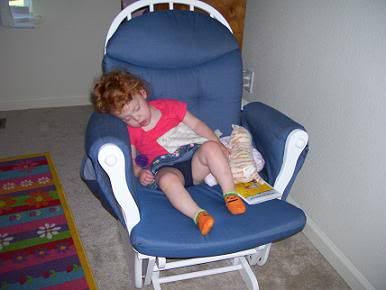 And the big kids spent some time outside with their art supplies and playing with their neighborhood friends.