I've been so bad about blogging lately. I'm sure the details of my life are really only interesting to me, but I do try to update as I can. I like having a record of our family life to go back and look at.
Matt is all settled into his new job I think. He got a much needed (and deserved) promotion, so that was really nice news for us. He's only working one weekend a month now too, so that is more good news. We love our family time on the weekends.
The kids are all doing well. Beth and Matt only have ten more weeks of school left. They are looking forward to both a field trip and a class picnic during the last quarter of school. Maryland did their state testing this week, so now that that is over they seem to have more time for extras. No word on next year's school situation yet. We should hear back from the charter schools sometime in April. I'm anxious to find out one way or the other. Miss Carrie is really enjoying her preschool class as well. I'm so glad I found a good program for her. It's just two mornings a week, which is perfect for her age.
As for our extracurriculars, Beth is finishing up her cheerleading season this week. Last night I dressed as the team mascot, a giant tiger. Beth had been begging me to take a turn, and as the season is wrapping up I thought I would go for it. Good grief...that suit was hot. I seriously thought I was going to pass out. There's a tiny mesh area that is your only source of vision and also air. It was not enough! What can I say? The things we do for our children... Beth and Carrie are still taking their dance lessons as well. Their recital is on Peter Pan this year, and will be in June. And finally, the three older kids are coming close to the end of this year's AWANAs program. Carrie is in her first year of Cubbies, while Matt and Beth are both in Sparks.
As for my little Katy Ann, she is growing everyday. She is finally talking some which is really cute to hear. Unfortunately her favorite word is "No!' I've always had great toddlers, but I think we are finally going to learn what the "terrible twos" is all about. She is just so strong willed. Good thing she is also adorable and loving, because those are the only things keeping her in my good graces most days.
Here are a few random pictures of our spring. Which so far feels an awfully lot like summer!
Our resident mama bird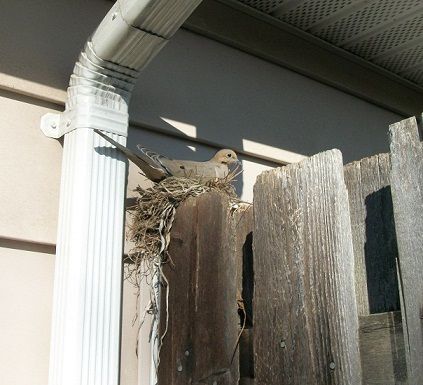 Birdhouses made by B, M, and C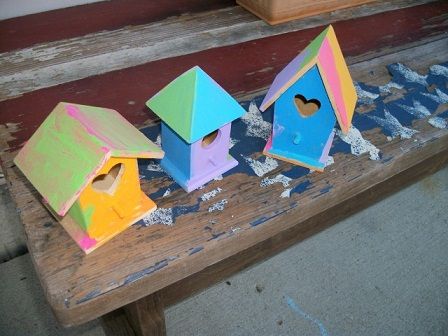 Waffles enjoying the sunshine. Don't worry...we watch her outside so our birdies are safe. I just can't keep her in though. She's like a dog and meets the kids at the bus. Then she rolls on her back and lets all fifteen kids getting off on our street pet her. She's a popular girl.
My first tulip. There are tons blooming now, and they are so pretty. I planted the bulbs last fall, and I was so happy to seem them come in.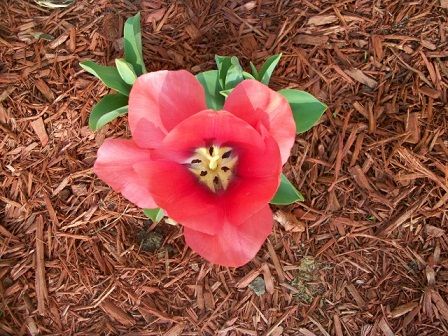 Happy Saint Patrick's Day!
See what I mean about the warm temperatures? We've already done water play several times. The kids keep asking about the base swimming pool, but it won't be open until Memorial Day.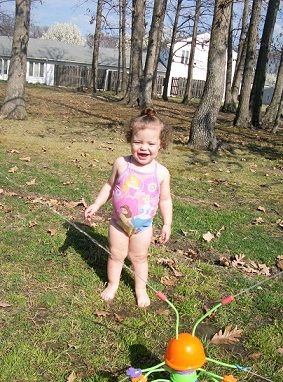 And finally, my little Matthew looking so much like his daddy.