Matthew has spent his whole life trailing after his older sister, and now that Carrie is getting older plays with her as well. He is an expert at the Pretty Pretty Princess game, loves playing ponies with Beth, and is always up for a game of dress up.
This spring though I have really noticed him diving into "boy"
activities
. All of a sudden instead of playing ponies nicely with Beth he is loading them up into his
Tonka
and crashing them into a tree. He loves cars, trucks, dinosaurs....anything he can run around with. And he can't get enough of being outside. I try to get him out several hours a day because otherwise he'll drive me right up the wall - he's a loud one!
Beth meanwhile is my
girly
-girl...she loves real animals, stuffed animals, stickers, arts and crafts, anything glittery, etc. She spent her afternoon with her animals in this patch of flowers. And if she had her way she would stick to an all pink all sequined wardrobe I think....we found this little number at a yard sale this weekend,
lol
.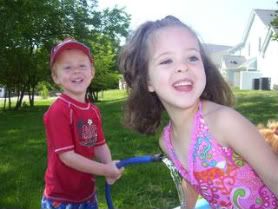 It's just so funny to me because they've really been raised very similarly. They've always shared a room, had access to the same toys, and gone the same places. And yet now that they are getting older I can really see their differences starting to come out.
Although Matt still hasn't retired his all time favorite Tinkerbell dress.