I wonder if little Katherine Ann will make her big appearance this month? She isn't due till July, but this is the most pregnant I have ever been. Either way I am excited about my little summer baby, and I'm looking forward to finally being able to hold some birthday parties outside! It's always hard figuring out something to do for the other kids' parties in January, February, and April. April might be okay once we leave Connecticut I guess!
Beth's dance recital is coming up in another week and a half...she is excited about that. I told Katy she has to wait at least until after the recital to show up! We have another birthday party to attend, the kids have two more weeks of dance, swimming, and gymnastics lessons, and then that is it until B and M start summer camp at the end of the month. I hope they like it...I have talked that camp up big time, lol. It's just a morning program through the Parks & Rec dept so I'm hoping it'll get them up and moving while I'm adjusting to life with four little ones.
We are still working on Beth's kindergarten program...I guess we will continue that until camp starts. It only takes like thirty minutes a day anyway, and then I usually spend another thirty minutes doing some other "school" activity with she and Matt or all three kids. I love that she can read now! Matt and I are both big time readers, and I hope all the kids come to be in time.
This is the splash park right up the hill....I think we are going to be walking up there a LOT this summer.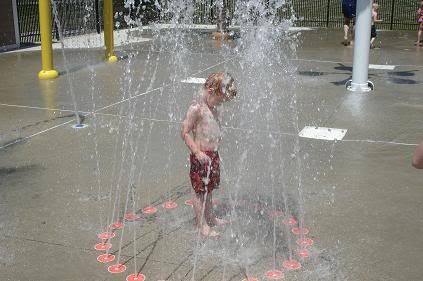 Bethie on a nature walk
Carrie at our Memorial Day picnic
Movie night!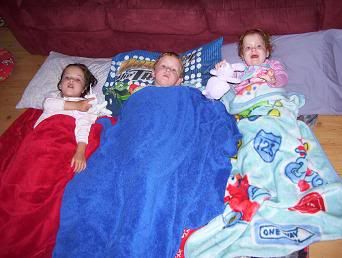 Another Goodwill find....think this can pass as a math activity? lol...