Things have been busy busy around here!
We have finished one FIAR book, and started another since I last updated. The first one was: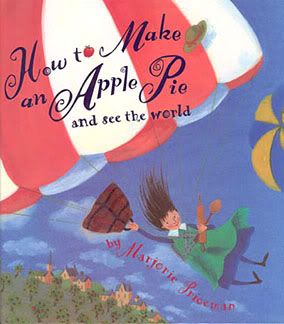 We LOVED this book. It was a great way to learn about geography. I even went out and bought that globe I had been considering for a while. We of course also had to make an apple pie, and it was just the right time of year for us to be able to go pick our own. I think the kids' favorite related activity was painting these apple trees. I saw these online, and the only thing we did differently was using a footprint to make the tree trunk. The leaves were handprints and the apples were fingerprints...it was messy but fun!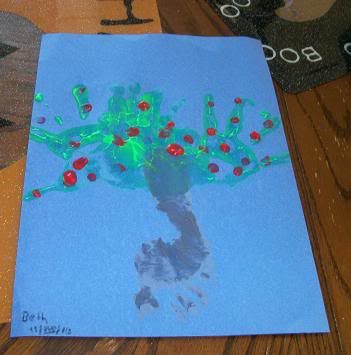 Our next book, which we are still working on, is:
The cool thing about this book is it takes place here in Connecticut. In fact the restaurant on the book is on the street where I went to college! It apparently was a real place which closed back in the 70's, but the waterfront in the illustrations still looks very familiar to me. I only wish we had done this book sooner, before the weather got so cold. It would have been a good excuse for a field trip to the beach. We woke up to snow today though.....I think our beach trips are done for the season! This seems early to me, even for Connecticut.
In other news, my kids had their big Gran Prix race last night! They were so excited. This was our first year, and as you can see I had the kids make their own cars. Sadly, they didn't stand a chance against the cars made 100% by parents. I also did not know that you could add weight to the cars. Live and learn, right? Next year I will help them more.
The little yellow one is Carrie's. She was so jealous when they started painting, and then I remembered that I had some plain wooden cars I had picked up some time ago. Next year she will be old enough to be a Cubbie herself.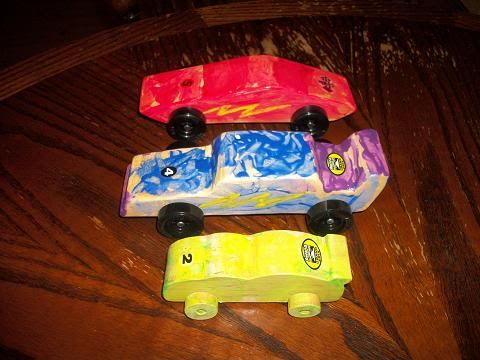 My Beth girl :)
Finally, I just had to share this picture of my little Katy Ann. Look how she loves her siblings! She is still not sleeping in her bed (at all!) but she has improved in letting me put her down during her awake periods. She especially loves her exersaucer.