I guess I really can't really post these by week anymore since some of the books have lasted a bit longer than that.
This past week and a half we have been rowing Madeline.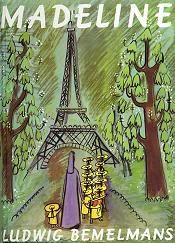 This was a cute story, and the kids really enjoyed it. We learned some new vocabulary words, studied the art in the book, learned a little about France, and practiced healthy habits. I think the kids' favorite thing was when we coated our hands in a small amount of Vaseline sprinkled with black pepper. The pepper represented germs, and we compared the results of just a quick rinse in the sink verses a good scrubbing with soap and warm water. I hope that lesson will stick with them through the coming flu season!
Since the little girls in the book do everything in two lines of six, we also took this opportunity to learn a little about symmetry. I couldn't resist letting them make symmetrical butterflies, which is something I can remember doing when I was about their age. Beth requested orange and black so they could made Monarchs - her favorite. Our butterflies turned out a little asymmetrical in the end, but it was fun making them. I think I will try them again soon, using glue we squirt on rather than paint brushes.
In other news Beth earned her first Awana patch this week - she is so proud! I need to sew it on still so it's not in this picture. She asks me about it like three times a day. I promised her I would get it done before the next meeting! Their next Awana project is the Grand Prix (it's like the Pinewood Derby, if you have been involved with the Boy Scouts.) I am glad to turn that project over to Daddy.