I keep meaning to do a better job keeping up with this blog. In the meantime, I'll just give a little update on all of us Tysons.
Big Matt is still working as a liaison to the Navy here in Maryland. He has another year and a half at that job, and then we will be on the move again. It has been so long since he had a "normal" CG job, that sometimes I forget he is in the Coast Guard at all. Our time here has really flown by, and he has enjoyed his work. This August he should get the "shopping list" which tells us what jobs are opening in 2015, and where he can ask for next. "Ask" being the key work, because in the end they can send him anywhere they want. In any case, August makes it all seem so soon! In addition to work, Matt is finishing up his degree in Biology. His goal is to graduate before we move, and so far he seems to be on track. The whole government furlough and then shutdown put him back a bit, but he is back in classes and working hard now.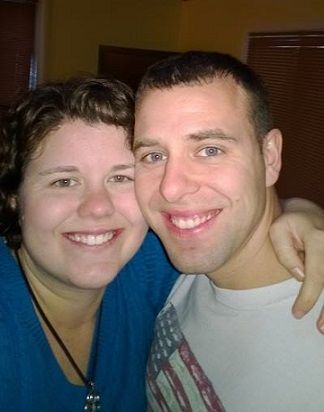 As for me, I am still enjoying life as a stay at home mom. The three older kids are in public school this year, and even little Katy goes to a preschool at church two mornings a week. My life seems VERY different than when I had all four home and was homeschooling. I miss them, but you know my house is cleaner - haha. In all seriousness we may very well return to homeschooling after our move. I miss the freedom in our schedule, and I am not at all sold on this new common core. For right now though we are very happy with our set-up. The kids go to a lovely small town school that is right down the road, and the teachers and families are fantastic. We will leave them there for the duration of our tour in Maryland, and we are thankful for the opportunity they've had to go there. With the kids being in school this year, I've also been able to a little volunteer work to my schedule which I have really enjoyed. After being home full-time for several years it does feel good to get out a little bit. I'm sure having slightly older kids (and getting to sleep through the night!) helps in that aspect too.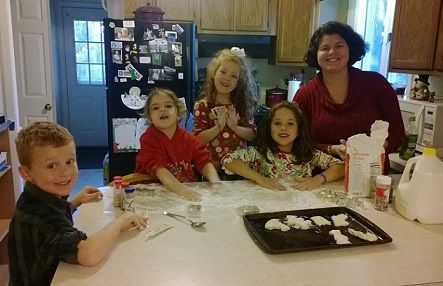 Miss Beth is almost nine years old now. I just can't believe it. She has been a very easy child so far, and we just enjoy her so much. This year she is in third grade, and she is taking violin lessons at school. I think that has been the highlight of her school year. She just loves it, and I never have to remind her to practice. Outside of school she loves to read. She read through the Harry Potter series three time this summer. I finally told her she had to pick something new. Currently she is enjoying factual books, like the "Guinness Book of World Records" and "Ripley's Believe it or Not." She always has some crazy fact she wants to share with me now. She found out that there is a Ripley's museum an hour from our house, and is gunning for a visit. She also loves art, and has decided she is expecially good at drawing horses. At home she loves to play teacher, and tries to get the other kids to join her as pupils for very lengthy school sessions. Her cat Waffles remains her most loyal companion, and she hopes to be a veterinarian when she grows up. As far as sports go, she has taken a gymnastics class at the rec all winter, and this summer will be switching to baseball. She'll be on a "youth pitch" team for the first time this year - wow! She continues to enjoy Awanas as well, and is in her first year of T&T. She started as a first year Sparkie, so this is her fourth year overall.
Mr. Matthew is seven and a half, and is midway through his second grade year. He is growing like crazy, and is always in need of longer pants and bigger shoes. He is not that interested in hugs and kisses from me anymore, which makes me sad. He still love spending time with me though, and always wants to show off his Lego creations or his toy car set-ups. He is his daddy's loyal helper, and loves working on cars, electronics, and building projects. I think he is smarter than me already, at least in some areas. He is definitely better at directions and helps me find my car in big parking lots. The girls all take after me, and we get turned around easily - haha. At home Matt loves to play restaurant, and sets up elaborate displays and menus for us to order off of. I am glad that he would still rather use his imagination than watch tv or play video games. He has a ton of energy and likes to play outside, so this time of year is tough on him. We have a small house and live in the country, so I have to be creative in finding ways for these little guys to be active. The yard stays too wet to play in this time of year, but any time it gets the tiniest bit sunny I slog their bikes or scooters through the yard and set them up on the road to ride. At church he is a third-year Sparkie in Awanas, and has little sister Carrie in with him this year. He loves to memorize his verses and always has such good insightful comments to make about the scripture he reads.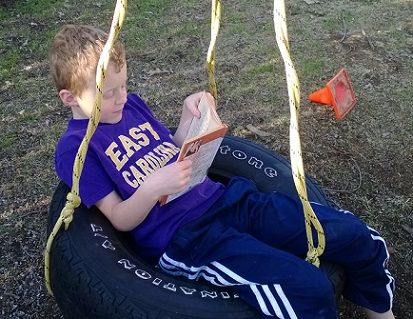 My Carrie-Berry will be six years old this month. She is enjoying a great year of kindergarten and is doing so well. She is (finally) getting help for her speech delay, but it has not held her back academically like I was afraid it would. In fact, she is the earliest reader of my kids so far. I have noticed a great improvement in her speech, and as a result in her confidence. It made me feel so bad when her preschool friends and teachers could not understand her, and I am glad that that is not the case this year. She has been become much more outgoing and has made a lot of new friends. Carrie does well at school, but claims she only likes "playtime." Playtime for her entails center time, recess, and all her special classes (art, music, pe, and library.) I am thankful this kindergarten is not as academic as some in other areas we have lived in. Although it is full-day, it seems to be just the right mix of seat-work verses playtime and creativity. Carrie's best friend is her little sister Katy, and Katy and I really miss having her home with us this year. The two of them play so well together, and love dressing up and playing with dolls and stuffed animals. Katy is a loyal side-kick, and lets Carrie take charge and be the "big kid" for a while. As for sports, Carrie has been doing gymnastics with her sister Beth. She said she is the smallest one in the class, and also the prettiest. Apparently not the most humble though.... This spring she will play t-ball.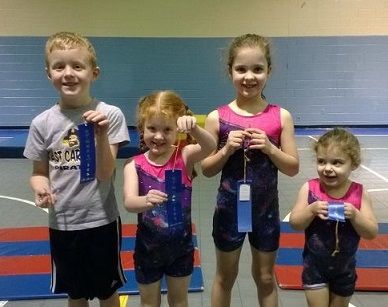 Finally, we have our sweet little Katy. Katy is 3 1/2, although I still call her "the baby" and maybe I always will. She seemed like a really young three to me (she does have that summer birthday) so we really debated putting her in preschool this year. She was just so little, and only potty trained the week before class started. I am glad we did though, as I have seen her grow in independence and confidence so much this year. She loves to go to school, and the two mornings a week is just enough for her. I still have her home most of the time, and she is my best helper. We run errands together, do housework together, and just generally pass the quiet hours anyway we please. Katy loves to do art, and has just recently switched from scribbling to drawing shapes, people, animals, and rainbows. As always, it seems like an amazing transformation to me. She also can cut along a line, sing songs, play ball, and peddle her trike. Just a delightful little girl. She is still loud, but I guess when you are the youngest of four, maybe you have to be.