We are homeschooling our children this year, and decided that it would work best to dedicate one room for all our materials. We turned our smallest bedroom into the school area, and now have two kids in each of the other bedrooms. A few weeks in, and I am so glad I made the decision I did. Too much clutter just makes me crazy, but with four kids and a fairly small house it is a constant battle. I love having a space where we can put everything, and a door I can just close to leave the mess of unfinished work and projects behind us. Now the kids do branch out and do their reading and other independent work wherever they want. The school room is just where we do all of our group activities and where I work with the kids one on one. It's most important function is truly storage. I just love having all the space and everything in one place. We started off schooling this month and have just been taking it slow. This week for example is VBS at our church so that is where we are spending most of our time and energy. Next week should be another school week, and then I hope to fit in at least one more family trip this summer. The homeschool part of our day only takes about two hours, so that still leaves tons of time for swimming pool trips and all kinds of other summer fun.
Miss Beth...I love this kid :) She's a second grader this year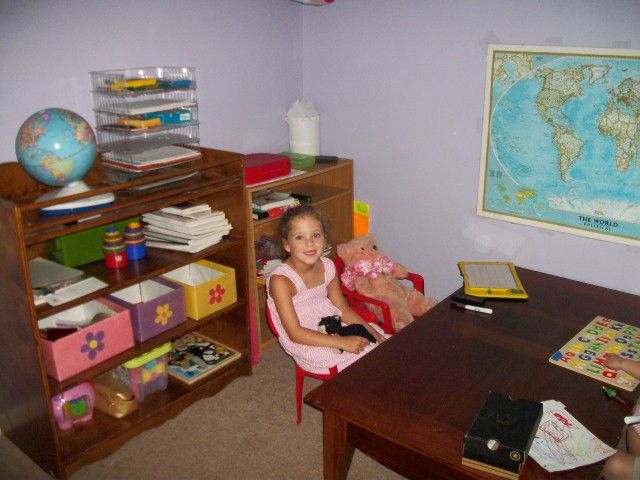 All three of my little students. The toddler tornado wanders in and out as well. Big guy Matthew will be in first grade this year. He is reading on his own and is a math superstar. Little Carrie is 4 1/2 and in pre-k. We decided to send her back to the preschool she went to last year, so she will be there three mornings a week, as well as doing fun homeschool things with us.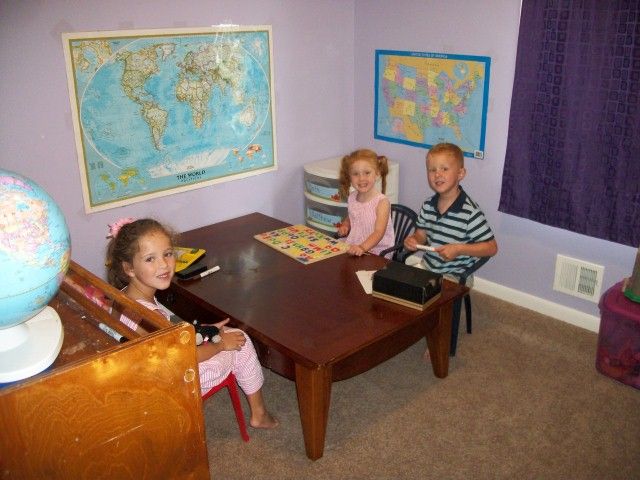 Our planets. The picture doesn't do them justice. They glow and are so cool! I think they are my favorite thing so far. I am enjoying this as much as the kids.