Our first Mardi Gras season has officially begun! Yes, it is a full season here on the Gulf Coast - not just one day as I had previously believed.
Yesterday we went and bought our first King Cake. It was sooo good! The filling was made of cherries and cream cheese, and a little plastic baby was baked inside. Little Matt got the baby in his slice, so he was the king for the day. It reminded me of when my Grandma used to bake a dime into our birthday cakes for good luck. I think I am going to be brave and try to bake my own King Cake this week...I want to give the girls a chance to find the baby as well.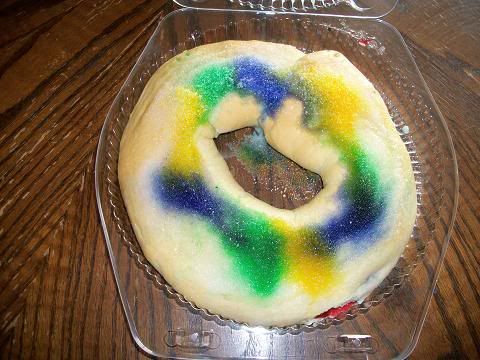 We also attended a Mardi Gras parade over in Ocean Springs. The kids had so much fun! They look they have lived here all their lives, what with all the beads and little New Orleans Saints flags. Not to mention it was like eighty degrees. Not too shabby for February!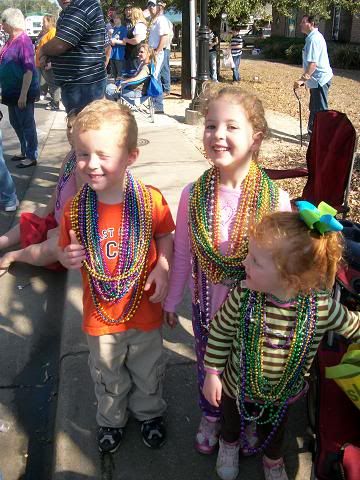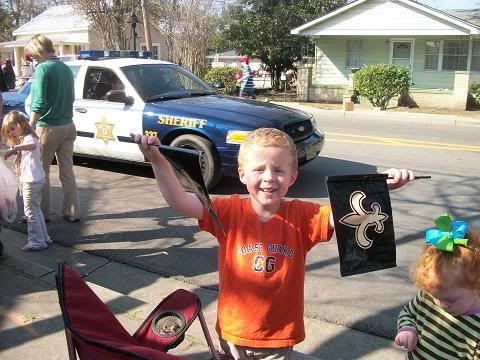 Carrie's first moon pie. It landed right in her lap - what good luck!
Katy Ann was unimpressed by all the activity.
Still to come is the Mardi Gras parade at Beth's school, the children's bike parade in Biloxi, and two days of school vacation. It's pretty awesome getting to live in new places and experience new things.