We decided to let the two older kids try going to school for the rest of the year. It seemed like a good time to give it a try, since we will once again be moving and starting fresh next school year.
Beth is in kindergarten, and she LOVES it. It is a nice school, but I'm still not really sold on it just yet. What can I say? I'm picky! I think the combination of having a teaching degree myself, and also moving frequently and getting to see all kinds of different schools, has given me a very specific set of expectations. Things are definitely a lot different than Connecticut here, that's for sure! The kindergarten is pretty advanced academically, so I feel like we are doing some catch up work. I wouldn't say she's behind actually, it's more just that I was a teaching a greater variety of material, and in a different order. In any case, she is enjoying all the elective classes and being with all her new friends. She is my little social butterfly! She is also a night owl, which worried me since this school starts at 7am. (Can you believe it?) So far though she has gotten up and gotten ready like a champ though. I myself have to get up by 5:30 to get showered, dressed, and a (very large) cup of coffee. Big Matt leaves for work at 5:15. Let's just say that we are having to learn to go to bed early.
Little Matt was of course jealous that Beth was off to school, so I enrolled him part time in a Christian preschool program. It is very play based, which is perfect for him.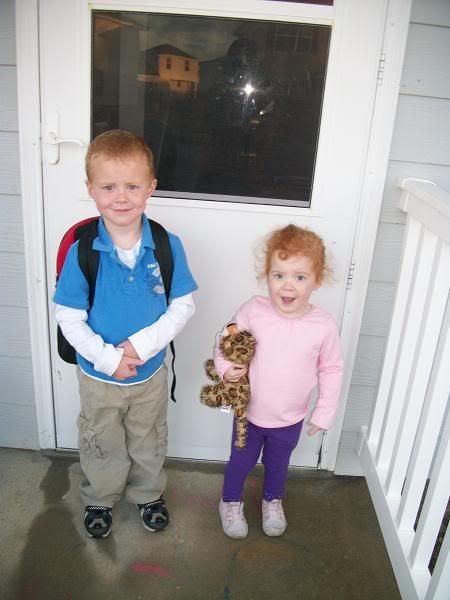 I really miss having my Beth girl and Bubba home during the mornings. It has been nice having so much time to devote to my little girls though. I feel like I have gone back in time to when Matt and Beth were my toddler and baby, and I spent all morning reading board books, pushing the stroller, and playing on the living room floor. The two of them are so cute together, and are really starting to enjoy each other's company. Carrie also potty trained the first day Matt was off to preschool. Just like that....no accidents! They are all growing up so fast on me. :) I'm slowly finding things for us to do in the area as well. The local library has a story hour and craft time that we like to visit, and I've also found a nice children's museum. We've had to stay indoors because believe it or not, it has gotten COLD here. Highs are only in the 30's. I want those 70 degree tempertures we had when we arrived last month to come back - those made me feel like I was on vacation somewhere tropical.