We're having another fun and busy week...I can't believe it is already Wednesday afternoon! This past weekend we went to the zoo, fair, Chuck E Cheese, and the park. I think my house is a kids' paradise, lol. It's because all I want to do is play with the kids myself....I have to make myself stay home and take care of the housework and cooking. I think the kids' favorite outing was the fair. We didn't do the rides this year....we just went to see all the 4-H exhibits. Beth especially LOVED all the animals and wanted to sit and watch all the 4-H kids show their animals. She now wants me to buy her a little brown goat. I think military housing would frown upon that.
We are enjoying our school work as well. This is our book of the week.
It's such a cute story....I recommend it for anyone, even if you are not using Five in a Row. My kids are loving FIAR btw! I wasn't sure that they'd go for reading the same book five times in one week, but we even my hyper little boy loves to sit and listen to the story each day. The books are older and can be a bit hard to find, but so far each one I've read has been of the best quality. Beth is still plugging along with her kindergarten phonics and math programs. Math is a favorite for all of the kids and is easy to include the little guys in, but reading is turning out to be quite a challenge. The other kids are just so LOUD all the time, and I have a lot of trouble trying to keep her focused long enough to get through a lesson. I'm thinking about either shifting her reading work to during quiet time (when all the kids are in their own rooms) or the evening (when my dh is home to help.)
My little Katy is three months old now....she is just too sweet! She never ever lets us put her down, but she does reward us with little smiles and coos all day long. I feel like I could actually catch up around the house if she would sleep a little better....but it just isn't in the cards! Maybe next year, lol.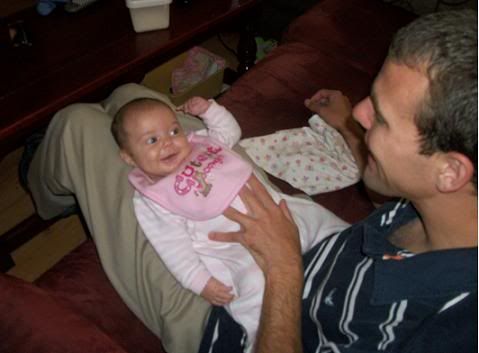 Matt wrote his name for the first time this week! A certain Very Bad Mommy threw his paper in the trash, then later had to fish it out from under broken egg shells (ew.) Luckily the part he wrote on was dry, so I cut that out and managed to save it. He also enjoyed painting and several other art activities this week. A few months ago he wouldn't have been interested in any of this. I'm glad to see him sitting for short periods at least now.
Mostly though, he just wants to spend his days outside....having sword fights and getting into all sorts of messes. He plays happily with his sisters all day, but he is mighty excited when the school bus comes at 4pm and drops all the neighborhood boys back off.