Today was Beth's first day of kindergarten. I just can't believe how big she has gotten!
The kids were super excited about their new lunch boxes, even though we ate at home.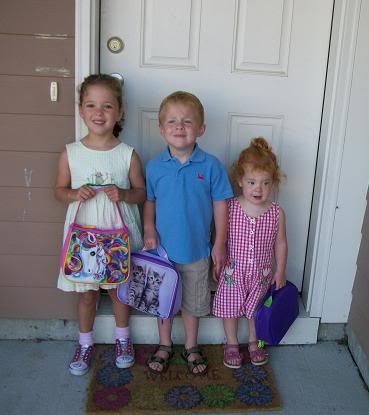 My big girl with her new lunch box and tennies
Matt is in pre-k this year.
We started our day with circle time - complete with the pledge, a special song, our memory Bible verse, calendar, and a weather report.
We then moved onto Math and Reading. Beth is using McRuffy this year. Matt has some workbooks I have picked up here and there.
Our FIAR book this week is "Lentil" so we read that and did some related activities.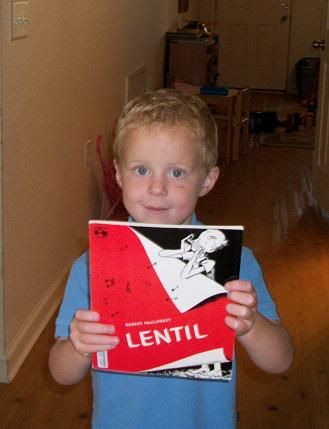 Matt did a little pattern work....you can tell he did this for like ten seconds before he made a rainbow railroad track, lol. That's my boy!
At some point we went outside to do some swinging and tossed around the football for a while. It was HOT, but the kids still wanted out.
The rest of our morning was spent listening to music and working with some craft materials. The kids loved making these picture frames. I was really surprised that Carrie could do this completely on her own...she's growing up on me!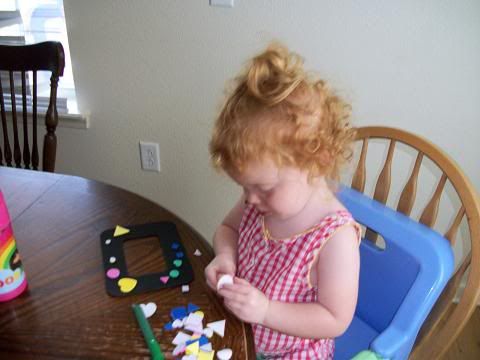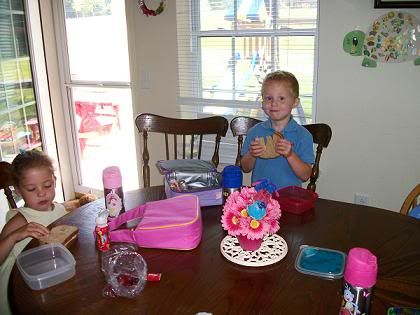 After lunch we got on the school bus after all. Sort of anyway, lol. We hit up an indoor playplace for a few hours of air conditioned fun.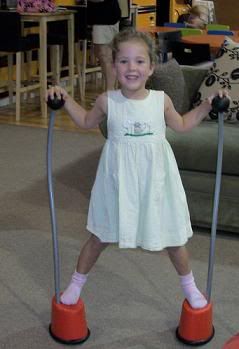 So that was my Bethie's first day of school! :) I think it went really well, and the kids are excited about starting the school year. Of course tomorrow we may or may not be getting a hurricane. I thought I had left all that mess behind me when we moved to New England!