The weather outside is pretty dreary, but we had a nice day. I took the kids by their daycare to visit their teachers and friends today. They haven't been back since I started staying home with them two months ago and they loved it. I felt a little bad because Carrie clearly thought she was going to be staying there and just had a big time with her friends. It was good to see everybody. The kids went there three years, and I also worked there over the summer, so I know a lot of the kids and have seen them grow over the years.
After that we went to Chuck E Cheese. As much as I hate Chuck E Cheese weekend parties, I love going on weekday mornings. It is empty, and for $10 I can get the kids fifty tokens and let them play away. Perfect for a rainy day!
This afternoon we hit up the Goodwill and I found a whole pile of great books to use with Beth...lots of science and social studies material. And $1 each...can't beat that!
I also got a new storage container for all these new purchases, some toys the kids grabbed, books for myself, and a little stuffed dog for Carrie. Carrie's very favorite lovey is this corderoy cat that she got from her great grandma as a baby. I have never seen another like it. This little dog is it's match though.....she was SO excited to see it! And it was only like fifty cents!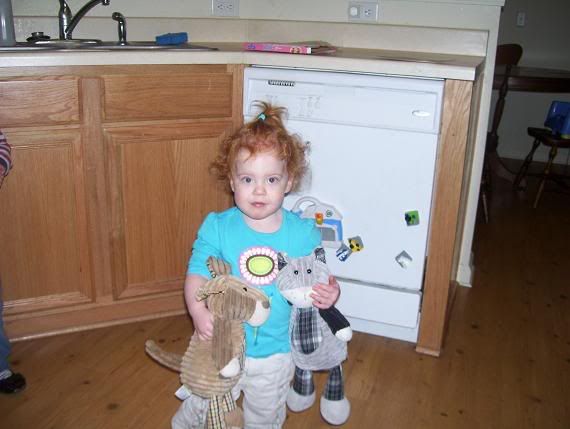 At home Beth spent some time with this workbook that her Grammy got her. I wasn't even in the room for this...she got it all out, figured out what to do, and completed it herself! Isn't she smart? It made me laugh, because she said she didn't know what the pictures of the rug or top were, so she just wrote B for both.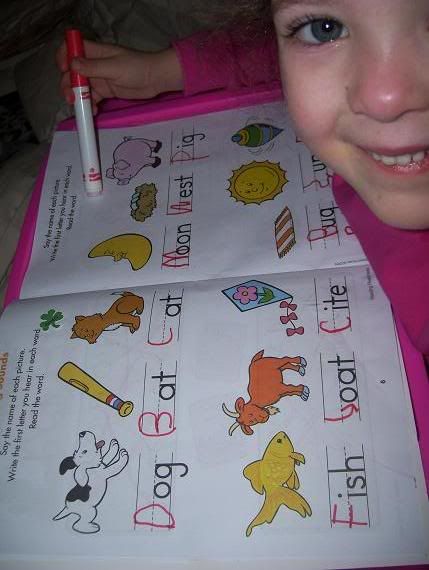 Meanwhile Little One #3 helped me with the laundry...she placed herself in charge of underwear as you can see. She decided to wear Beth's and stuffed all of Matt's in Beth's dresser.